Standards • Individuals • Proprietaries
What are templates?
Protocol templates are Lua scripts specifying how the continuous data stream is divided into single telegrams and how they are displayed to the user. This makes them widely adaptable to very special and uncommon protocols.
How do they work?
Every incoming data is passed to the template in real-time by an extrem fast Lua engine. Various functions help you to test every start/end condition. A mighty box mechanism let you display telegram fields as you like.
Can I write my own one?
Yes of course - that's the intention! The analyzer software provides you with all you need to create your very one template. Or you modify one of the many provided templates for your purpose. Read more
Mastering your protocol in more than one way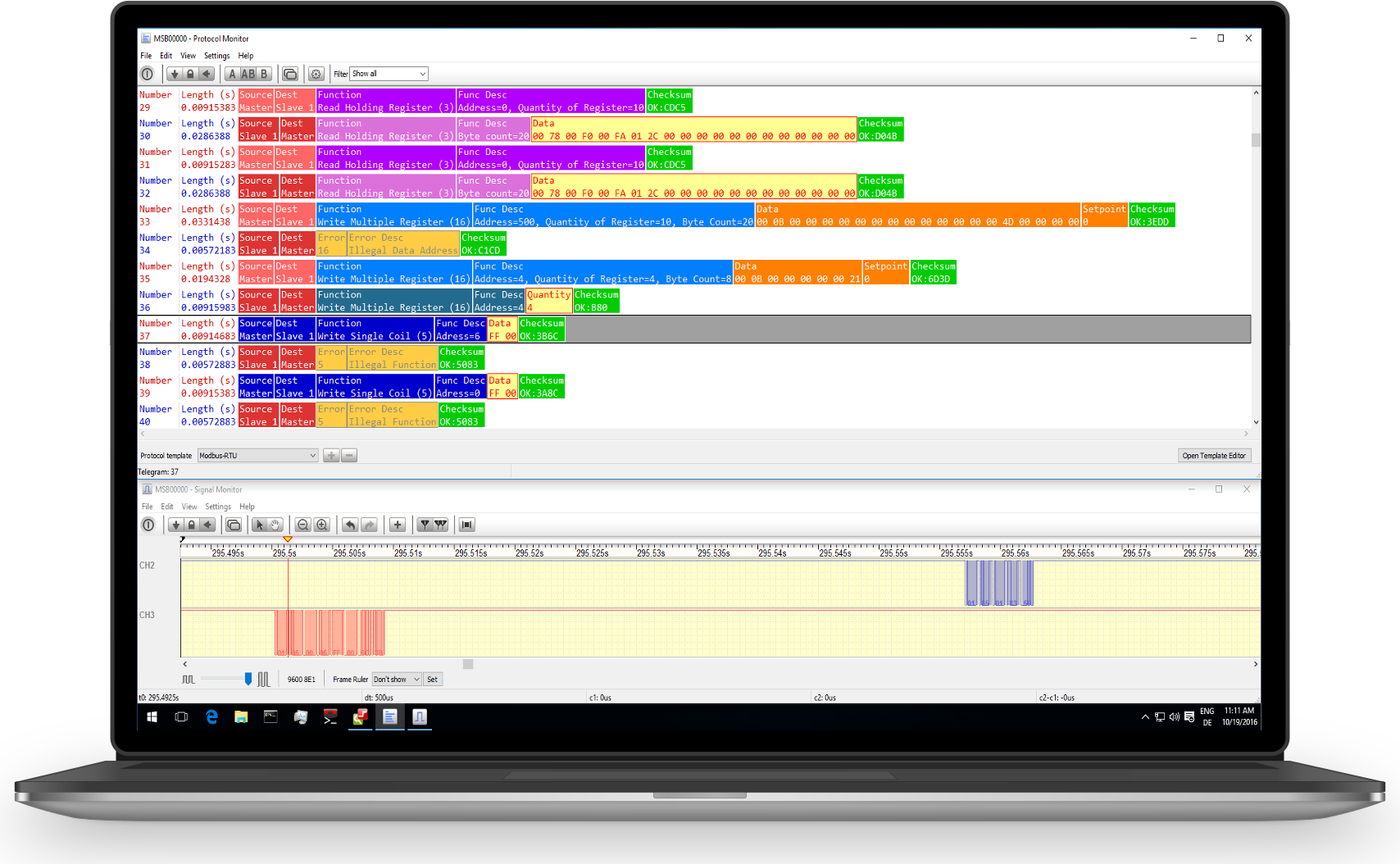 with features you don't want to miss when analyzing telegrams
Available templates
The following templates are already part of the analyzer software. Future templates will be listed here for free download.
3964(R)

BACNet

Common 9-Bit

DF-1

DNP3

MDB/ICP

IEC60870-5-101

Modbus

Profibus

SAE-J1587

SAE-J1922

SMA-NET

USS
Not listed? - write your own one!
What's necessary
Every template has to provide at least the two functions split() and out()
The first one divides the incoming data stream into single telegrams.
The second function controls the appearance of the splitted telegrams.
Split the telegrams
is easy. Every receiving byte is passed to the split() function with all information you need to evaluate the start or end of a telegram. Depending on the result you just have to return STARTED, MODIFIED or COMPLETED. Show/Hide example!
Display the telegrams
is handled by the second function. Designed for maximum speed, out() is called every time a telegram must be rendered by the program for display. In it you can access all telegram data, process it according to your ideas and order the result in colored boxes with any content. Show/Hide example!